Get Your Vehicle Ready for Summer | Steve Landers Auto Group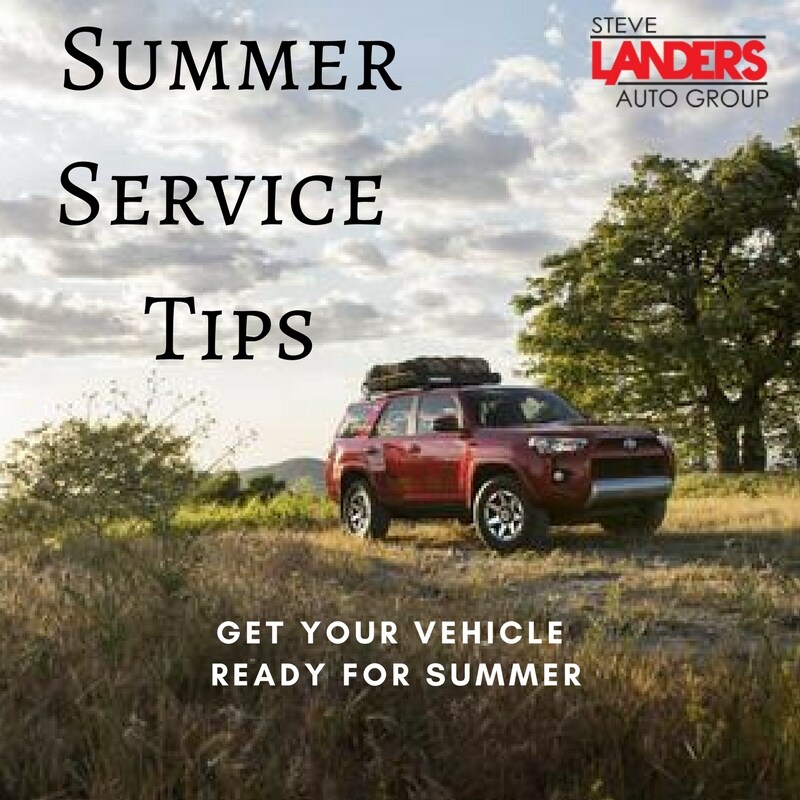 Whether you're driving a tough truck, sturdy SUV, or sleek sedan, the colder months can be tough on your vehicle. Between all the snow, ice, grit, road salt and everything in between, winter takes a toll on every car on the road. Summer is the perfect time to do a check-up on your vehicle's performance. With many drivers planning summer vacations and road trips, checking that your car is ready for your summer adventures is a must. Follow some of Big Steve's summertime service tips to ensure your vehicle is summer-ready.
1. Check Your Tires
Tires take the biggest beating during the colder winter months. Now that the snow and ice are behind us, check the general wear and tear on your tires. Do they need more air, need to be rotated, or replaced? Steve Landers service technicians can help you out with all your tire needs to be sure they are ready for the summer roads ahead.
2. Check Belts, Clamps, and Hoses
It's always important to schedule routine maintenance work to ensure nothing under the hood gets too worn down. Follow your owner's manual or consult one of our service technicians to know when your vehicle needs routine maintenance. With all you have in store for your vehicle this summer, you want to be sure everything is running smoothly and soundly.
3. Get Your Oil Changed
This one may seem like a no-brainer, but you'd be surprised how many drivers forget to have their oil changed. Checking your engine's oil life is a MUST before heading into summer. Stop by one of the many Steve Landers service locations to get this done.
4. Check the A/C
Chances are you didn't run your vehicle's A/C through the cold winter months. The last thing you want to happen on your family vacation is to have the A/C go out. Can you imagine the unbearable July and August heat?! Avoid this dreaded disaster by getting a quick check-up with one of our service centers.
5. Give your car a good deep clean
It doesn't always take a trip to the service center to have your car feel like new! Do some vehicle spring cleaning before the summer months hit. Clean out shovels, gloves, coats, and other winter gear to make room for all your summer essentials.
Let the Steve Landers Auto Group take care of all your vehicle maintenance needs whether you're in Central Arkansas, Northwest Arkansas, or Norman, Oklahoma. Stop by one of our locations this summer.
Landers Chevrolet of Norman Service Center
Landers Chrysler Dodge Jeep Ram of Norman Service Center
Landers Chrysler Dodge Jeep Ram in Little Rock Service Center
Steve Landers Kia Service Center
Steve Landers Toyota Service Center