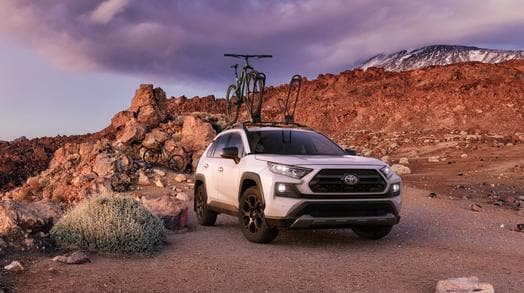 Spring is our favorite time of the year. Arkansas explodes from its winter hibernation into a warm-weather wonderland, and we're always ready to get out and explore the area. This spring, our car of choice is the all-new 2019 Toyota Rav-4. Back with more adventure features than ever before, the 2019 Rav-4 is primed to take you through the woods, up the mountain or into the creeks and rivers of the beautiful Natural State. Dynamic performance features allow the Rav-4 to drive to its maximum potential whether you're on the highway or the trail.
Adventurous.
The 2019 Rav-4 was built with adventure in mind. All-new features allow you to get out and explore like never before. A new Terrain Select feature is standard on all-wheel drive models, allowing you to indicate mud, snow, sand or normal conditions and automatically adjusting the vehicle to give you the best performance. High ground clearance allows you to easily navigate trick off-road paths, and a standard 1500 pound tow capacity means you can take bring along whatever you need for exploration.
Efficient.
Dynamic Torque Vectoring All-Wheel Drive revolutionizes the way your car functions. It shifts more power to the back wheels when you need more traction and moves it back to the front when you don't so you can get maximum fuel efficiency. The 2019 Rav-4 also features three distinct modes: Sport, ECO and standard. These three modes allow you to tailor your driving experience to your liking, whether you want peak performance, gas-saving capabilities or a nice blend of the two.
Stylish.
The 2019 Rav-4 builds upon the classic design of the model with a modern exterior and easy-to-use interior features. A wide wheelbase and flared fenders provide a tough appearance, while unique wheel designs are intended to compliment the Rav-4's distinct style. On the interior, a seven-inch Multi-Information Display dashboard tells you everything you need to know whilst driving, and a state-of-the-art entertainment center fits nicely into the center console. Available interior LED lighting and panoramic glass roof add stylish touches to an already beautiful car.
With such a great vehicle, we can't wait to get out and explore Arkansas this spring. Come in for a test drive at Steve Landers Toyota and experience the amazing 2019 Toyota Rav-4 for yourself!