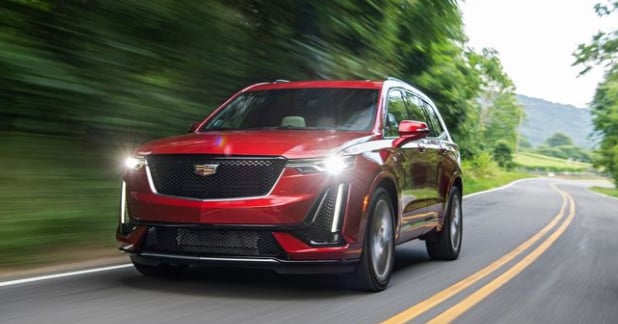 Seems like these days, every major car manufacturer is pushing the biggest and baddest SUV. Crossovers just can't compete with the seating and storage with which SUVs have become synonymous. The 2020 Cadillac XT6 Luxury SUV brings ample storage, luscious interior packages and plenty of power to the 2020 SUV market. Let's take a look at some of the features that make this iteration of the XT series the best one yet!
At five-inches smaller than its older sibling, the 2019 Cadillac Escalade, the 2020 XT6 doesn't skimp on size. The XT6 is the first Cadillac to take inspiration from the Escala concept car teased back in 2016. Contoured, wide and slender lines comprise the XT6's body, definitely eye candy for the design enthusiast.
The interior is nothing short of Cadillac's legendary luxury. When equipped with the Platinum Package, the XT6 boasts premium materials like a leather dashboard and steering wheel cover and carbon-fiber and wood trim throughout the cabin. With options for six and seven-passenger seating, the XT6 allows you to make the most out of your SUV and the demands your lifestyle places on it. The Cadillac CUE (Cadillac User Experience) infotainment center allows you to make the most out of your drive, boasting Apple CarPlay, 3D mapping, places of interest, easy access contact lists and a customizable home page of your favorite features. Fans of Cadillac Super Cruise will be excited to hear that the service will be available on the 2020 Cadillac XT6 later this year!
You'll drive with confidence knowing that the nine-speed automatic transmission shifts and adapts smoothly. A 3.6-liter V-6 engine nets the 2020 XT6 310 horsepower and an impressive 271 lb.-ft. of torque. Brake-based torque vectoring will have you turning smoothly and, most importantly, safely. Looking for a little more power? The Sport package soups up the XT6 with a quicker steering rack, heavy-duty cooling, active dampers, a twin-clutch rear axle and an oh-so-clean gloss black trim.
Landers Chevrolet Cadillac of Joplin is highly anticipating the launch of the 2020 Cadillac XT6. Want more information on Cadillac's new luxury SUV? You can fill out Landers Chevrolet Cadillac of Joplin's
contact form
to get in touch with the dealership and stay up to date on all things XT6. Who knew driving luxury could be this much fun?