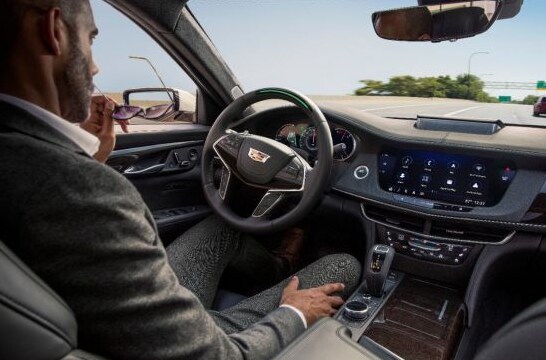 Cadillac is adding 70,000 more highway miles in the U.S. and Canada that will be available on its hands-free Super Cruise network. The addition will make Cadillac the first to feature more than 200,000 miles of compatible, hands-free highway driving. Owners of 2018 and 2019 Cadillac CT6 can expect the additional mileage to hit the Super Cruise system by the end of 2019 and the extended network is anticipated to come equipped on the 2020 Cadillac CT5 and CT6 models.
Cadillac is ahead of the game thanks to Super Cruise's autonomous driving system being available on 130,000 miles of limited-access highways. Currently sitting between a two and three autonomous rating (on a scale of one-to-five, five being fully autonomous), Cadillac Super Cruise offers a versatile mix of hands-on and hands-free driving. Super Cruise and Adaptive Cruise Control work together to make hands-free driving safe for you and others around you. Since launching, Super Cruise has logged 2.5 million miles across all Cadillac CT6 drivers.
Super Cruise is all made possible by high precision GPS systems, LiDAR (Light Detection and Ranging), network and camera systems and a state-of-the-art Driver Attention System. Should the driver not meet the attention system's requirements, Super Cruise will remain locked. When a driver proves to the system that they are paying attention and can control the vehicle, Super Cruise will unlock and drivers can activate it on limited highways.
While Super Cruise is extremely smart technology, drivers must make certain that they're driving on limited-access highways before initiating Super Cruise. It isn't designed for every road and users should be cautious when activating it. Should weather impede lane markings and visibility, Super Cruise should be left off. If a driver's rear-view camera and radar system are concealed, Super Cruise cannot function correctly and should remain disengaged.
Ready to start driving autonomously? Here at Landers Chevrolet Cadillac of Joplin, we can't wait for Super Cruise to start rolling out on more models! For more information on the 2019 CT6 and Super Cruise, fill out our contact form or give us a call!