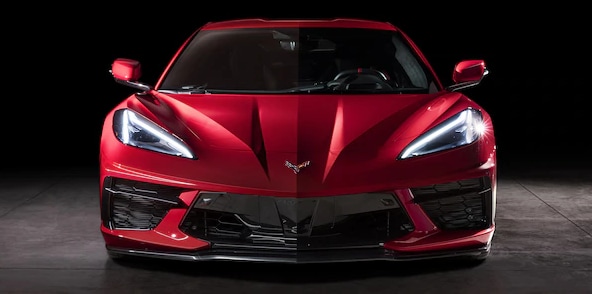 It's been a long time coming. The 2020 Mid-Engine Corvette Stingray is nearly upon us and we're getting excited seeing all the features and highlights that this sporty ride has to offer! The fine folks at Landers Chevrolet of Norman and Landers Chevrolet Cadillac of Joplin are gearing up for a successful launch of the Stingray. Let's take a look at some of the Corvette's best easter eggs and highlights!
Hidden Logos
Only a keen eye will spot the hidden Corvette logo in the car's central speaker. Nestled between the two seats, the speaker's holes are drilled in such a way that you can catch a glimpse of the legendary Corvette logo when entering the car. This is a fun little feature that the fine folks at Chevrolet certainly put time and effort into.
Proximity Unlock and a 'Frunk'?
While it's not an easter egg, the addition of a front trunk, or more endearingly referred to as the 'frunk,' is a new addition for the Stingray. Given that the engine sits behind the driver and passenger, the extra room for the frunk is by no means necessary, but it may come in handy sometime. You can open the frunk from inside the car or remotely by key, but what happens if you've locked your keys, coincidentally, in the frunk? Never fear! Both the front and rear trunk have a proximity feature, allowing you to open each when the key fob is nearby. In the bizarre scenario where your keys are trapped in the frunk, you can simply dig around the front fascia, near the left air vent, and push a button designed to unlock the frunk from the outside.
Flags on the Rear Windows
Easily visible are the black flags fading downward on the rear window. It's nice to see this design element continued from the Corvette C7 and they've been redesigned to be narrower and more V-shaped for the updated 2020 Corvette Stingray. It's the little things.
A Soft-Close Trunk
While the frunk is wildly fun, the soft-close trunk will make sure that you never have to slam another trunk. An electronic lock system will latch the trunk shut, perfect for stowing the top of the 2020 Corvette Stingray Convertible. Fancy.
Enthralled by the 2020 Corvette Stingray? We don't blame you. How can you not be? Want to stay updated on all things Corvette? You can fill out the respective contact forms for Landers Norman and Landers Joplin and they'll make sure you're in the loop! We hope to do business with you!